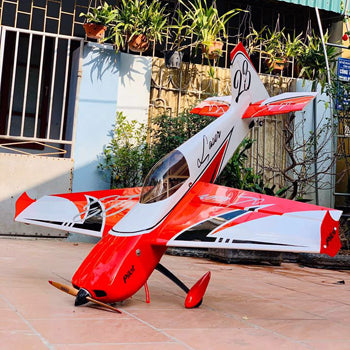 Pilot RC 67" Laser CF Red White Black 20cc PIL648
---
---
---
Share this product
---
Pilot RC 67" Laser CF Red White Black 20cc PIL648

NEW!

 

Hybrid construction from wood and composite materials for specially reinforced fuselage and wings.
NEW!

 

Patented quick assembly system for wings.
NEW!

 

Patented quick assembly system for canopy. Especially useful for electric version, fast battery change!
NEW!

 

Patented quick assembly system for SFG.
Strong yet light weight design, specially developed for precision acrobatic and extreme 3D flying
Highly prefabricated, experienced builders can have air ready in under a day
Removable wings
Laser engraved motor mounting position 
Designed for both 20cc engine or electric motor
Internally mounted cowling – so no external screws exposed
Included servo extension wires and wing bags

Complete air frame with all basic accessories (such as carbon fibre main undercarriage, tail-gear assembly and wing-tube as well as fiberglass control horns and wheel pants)
Included wing bags
Hinges ready to be installed and pre-mounted canopy
Fuel tank, fuel dot and fuel tubing pre-prepared
Wheels, axels and wheel pants
Pre-prepared pull-pull wires and pushrods with ball links
Included spinner

Motor: 20cc or equivalent electric

*Please note that the setup of this plane accepts both electric or gas engine, however in order to use gas engine, firewall and engine box must be reinforced.

Servos: 4 high torque plus throttle // Uses x1 per aileron, x1 for the elevator and x1 on rudder

Also requires all the usual accessories such as transmitter, receiver, propeller, batteries, powerbox, extension leads and possibly other small accessories.
---
---