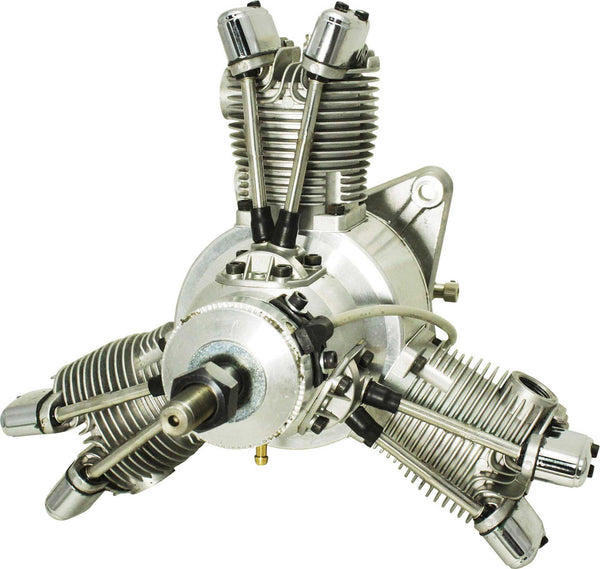 Saito FG-60R3 Petrol Engine 3-Cylinder Radial Engine With Elec Ignition
---
---
---
Share this product
---
Saito FG-60R3 Petrol Engine 3-Cylinder Radial Engine With Elec Ignition

Product Features:

2S Li-Po battery compatible ignition without a regulator provides easy starts and reliable performance
4-stroke sound that Saito™ engines are famous for
Complete with electronic ignition, flexible exhaust pipes and engine standoffs
Bronze-bushed master rod and improved intake plenum design

Overview

The Saito™ FG-60R3 engine is designed specifically for scale and sport models.

Above and beyond the advantages of a 4-stroke gas engine, this is the engine for those who like to run clean and efficient engines.

Accompanied by Saito power and precision craftsmanship, distinguished look and sweet sound, this is the engine many of you have been waiting for.

This engine provides easy starts and reliable performance due to the 2S LiPo-compatible electronic ignition.

The Saito gasoline carburetor features a rotating barrel specially made for 4-stroke engines, ensuring reliable fuel feed and outstanding performance at any attitude. Complete with mufflers, engine mount, and electronic ignition.

As an expert in reliable 4-stroke engines, Saito engineers spent years developing the best-built 4-stroke gas engine. The power-to-weight ratio of a Saito engine creates a one-of-a-kind flying experience.

Bore: ø32mm x 3
Stroke: 25mm x 3
Displacement: 60.32cc
Weight: Body: 1,800g / Muffler: 90g / Ignition: 195g (All Approx)
Practical Range: 1,500 ~ 7,000RPM
Recommended Prop: 21 x 10in ~ 23 x 8in
Static Thrust: Approx 7Kg
Fuel Efficiency: 30cc/min Fuel flow varies depends upon propeller load. More fuel flow with larger load and less fuel flow with smaller (In actual flight, fuel flow somewhat increases).
---
---