SPECIAL EDITION OF THE SMARTEST, MOST ADVANCED SPEKTRUM™
 

TRANSMITTER

This Special Edition version of the most powerful, intelligent, and feature-packed Spektrum transmitter to date includes all of the original iX20 programming and connectivity innovations plus exclusive upgrades, for a uniquely pro-class flying experience.

The Spektrum™ iX20 smart radio is our most powerful, feature-packed 20-channel air transmitter to date and host to a wide array of innovations and upgrades. It was designed to meet the present and future needs of pro pilots who want top-class features, easy programmability, and the capabilities required to fly high-performance aircraft.

The iX20 may be the most advanced intelligent transmitter available with an Android 7 touch-screen interface – but that doesn't mean it's hard to use. The giant 5-inch, 720p color touch-display makes working with state-of-the-art technology comfortable and exciting. All-new Spektrum AirWare™ firmware has been streamlined and enhanced to deliver an overall faster experience. When you delve into the details, you'll see that the iX20 is much more than just our next intelligent transmitter.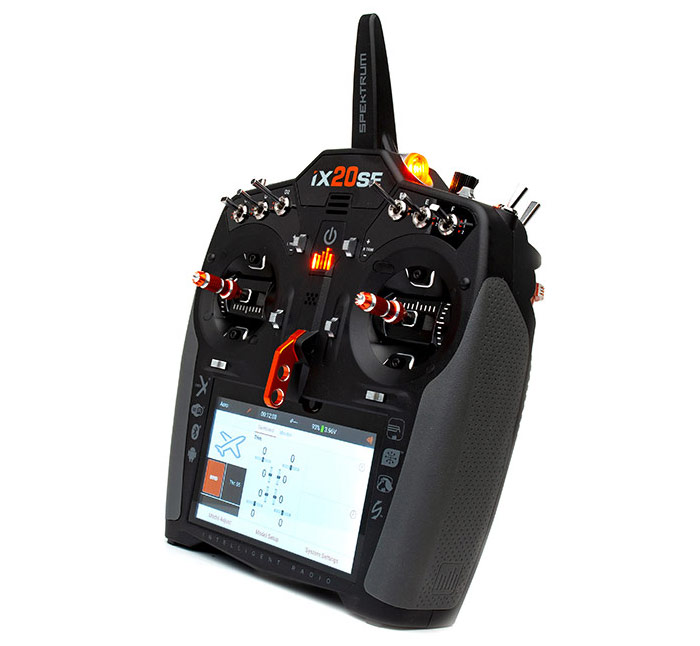 ---
ENHANCED ERGONOMICS

Designed and ergonomically engineered by Mirco Pecorari from AircraftStudioDesign, the iX20 fits a wide range of pilot needs. Its quad-bearing, Hall-effect sensor gimbals offer long-lasting precision with an ultra-smooth feel that's conveniently adjustable from the front of the transmitter. For this Special Edition transmitter, the gimbals are constructed of premium machined aluminum.
MORE IX20 ERGONOMIC FEATURES
Adjustable stick length and tension
Easy-grip slide levers with firm-center detent plus spring tension adjustment accessible from the front of the transmitter
Contoured, non-slip rubber grips
User-adjustable mode configurations (1, 2, 3 or 4)
User-adjustable switch assignments with touch sensing
Pushbutton power switch with sleep mode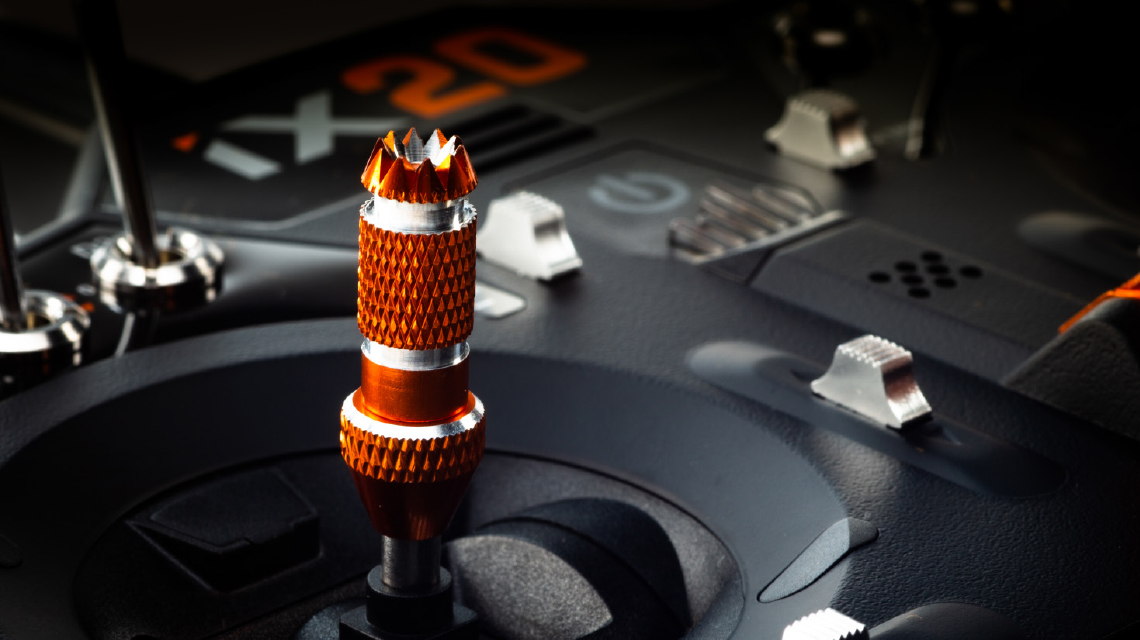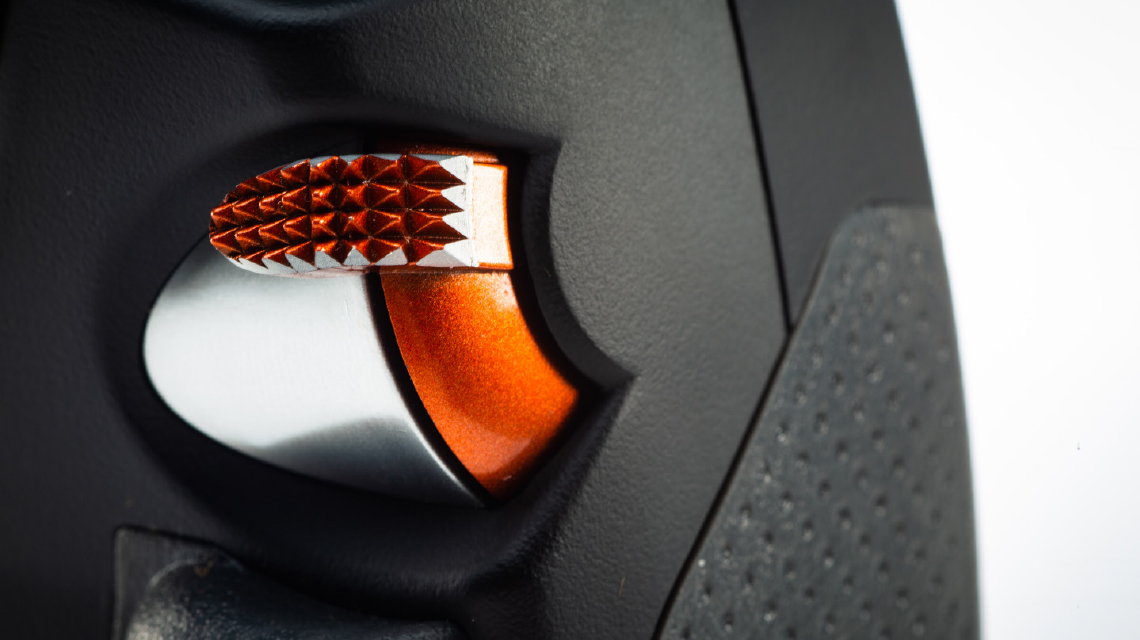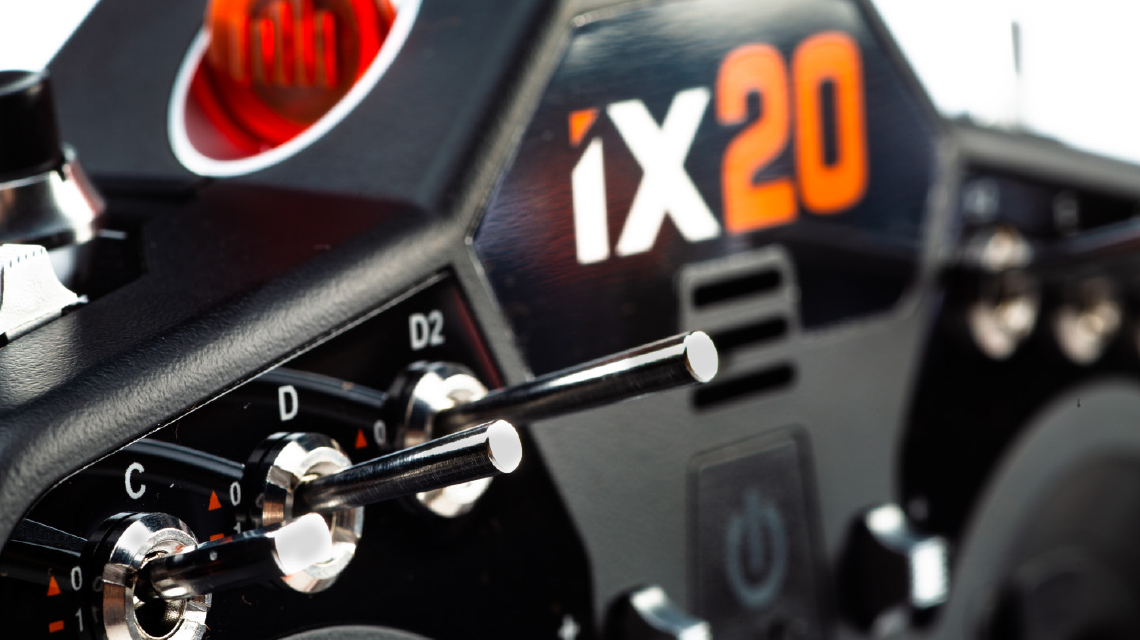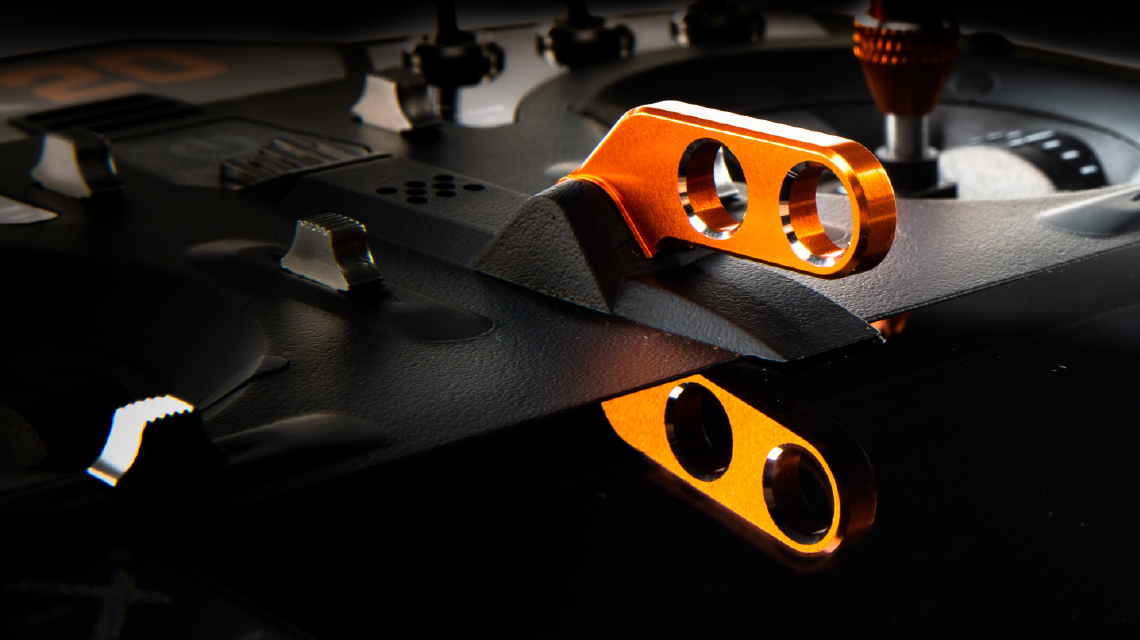 ---
SPECIAL EDITION DUAL TRANSMITTER CASE
An aluminum dual transmitter case is included with the iX20 Special Edition for transporting it safely and in style — perfect whether you're going to the local field for the day or to compete in international contests with the world's top pilots!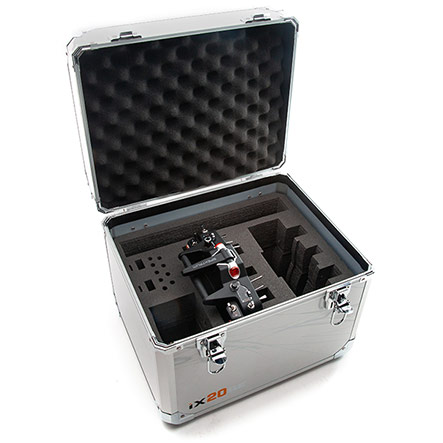 ---
FAST ANDROID-POWERED TOUCHSCREEN INTERFACE
The giant 5-inch, full-color, easy-to-read touchscreen interface cold-boots (from off) in less than 30 seconds and wakes from sleep 1 second or less. Its processing speed is approximately 250% faster than that of the iX12. The stateof-the-art touchscreen technology provides information in crisp, clear detail and allows you to make precise changes quickly and easily. You literally "tap" into the iX20's programming, and model setting changes take effect instantly. Because this is a fully functional Android interface, it will work with an evolving list of apps from the Google Play store.
HIGH-RESOLUTION COLOR DISPLAY
Huge and easy to read, the 5-inch, Androidpowered touchscreen offers a high-resolution 720p HD color interface with the power to graph expo curves and the like with greater accuracy and view new telemetry gauges in a way that won't leave you second-guessing.
---
LATEST IX20 SPEKTRUM AIRWARE USER INTERFACE INSTALLED
The iX20SE will included the updated Spektrum Airware software featuring User Interface updates, new features and improvements:
Updated Smart Telemetry Dashboard with real-time graphing
Preset BNF Model Templates for popular Bind-N-Fly Aircraft
High Contrast Dark Mode for a high visibility interface
---
INTUITIVE PROGRAMMING
Long-time Spektrum™ users will feel right at home the first time they pick up the iX20. That's because its Spektrum AirWare™ Touch app program is built on the same Spektrum AirWare firmware used today. The giant, color touchscreen interface simply makes menu navigation and setting changes even easier than they were before.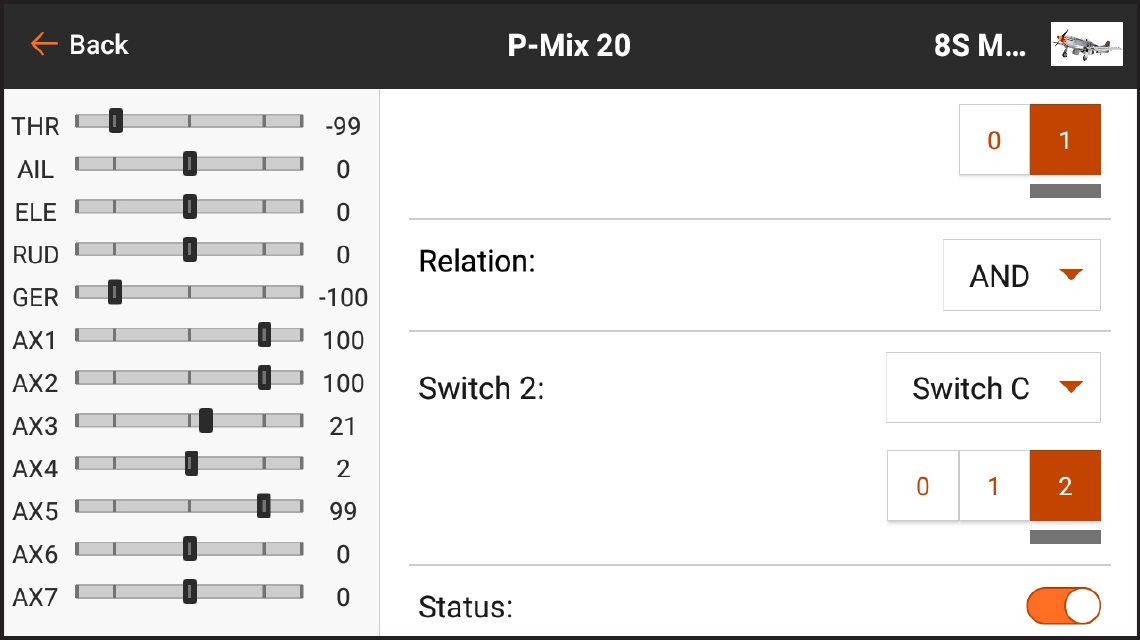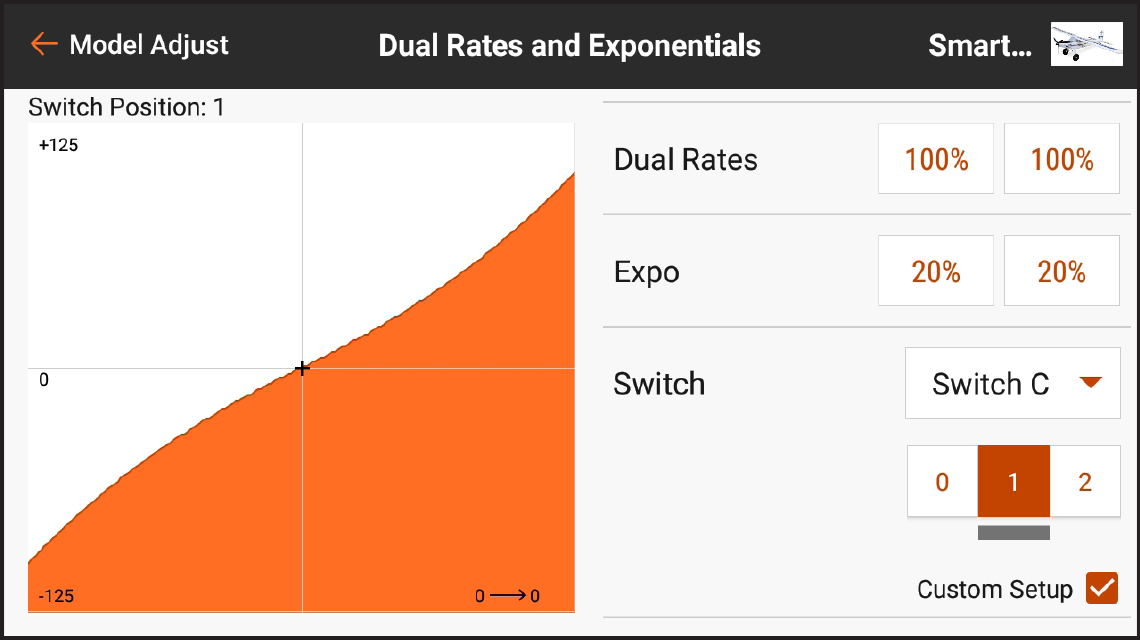 ---
20 CHANNELS
Maybe you're the proud owner of the most feature-packed model on the planet, maybe not. Use just four channels or all 20. The iX20 intuitive programming uses simple language and logic to help you easily set up and operate any aircraft type, and to custom-tune and add features whenever you like. With its X-Plus™ channel expansion capability, the iX20 also allows you to add up to eight additional channels with an X-Plus Channel Expansion Module (SPMXP8000 – sold separately). Just plug the module into a compatible receiver, bind it to the iX20, and then assign the extra channels to any functions you want.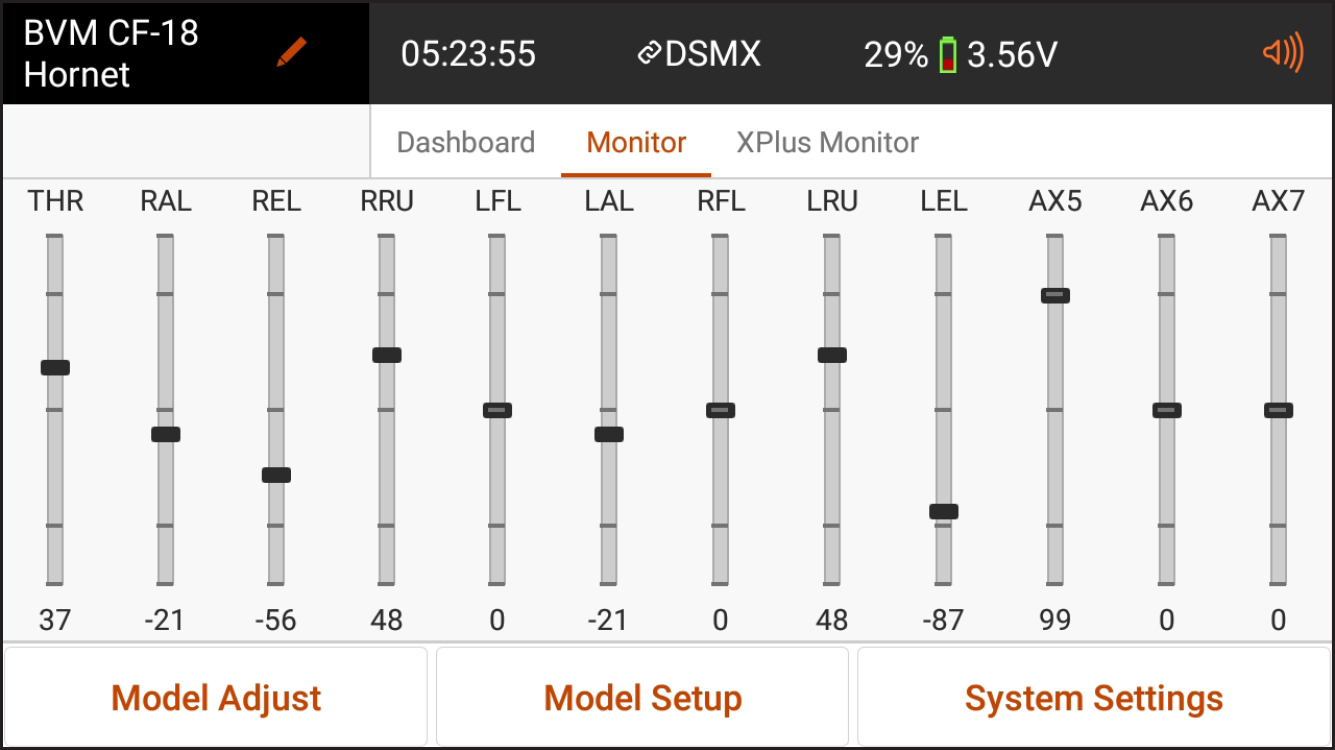 ---
MENU SETUP
The iX20 allows you to customize menus based on particular receiver features, adding or removing items that are or are not relevant. Just go into the receiver list drop-down menu and use the on/off buttons to turn items on or off (and to select channel count if the receiver you want is not listed).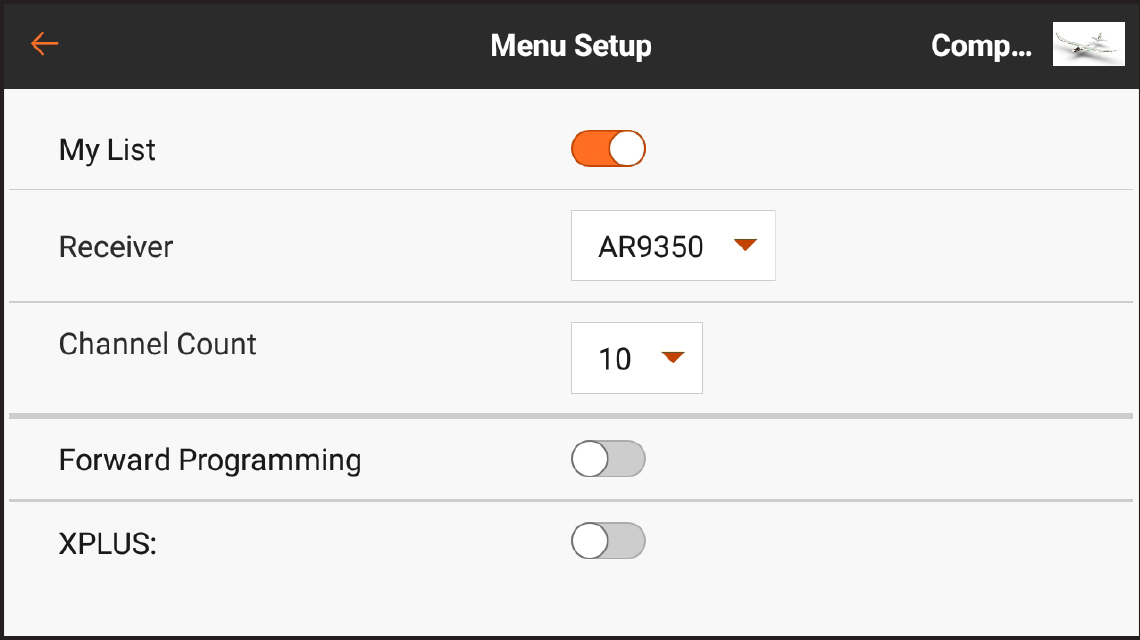 ---
CONVENIENT WI-FI, BLUETOOTH AND USB CONNECTIVITY
When connected to Wi-Fi, the iX20 transmitter gets even smarter. Spektrum™ AirWare™ Touch app update alerts are automatic, plus you can download model setups and add third-party apps. The iX20 can connect with just about any Bluetooth device. This means you can use wireless earbuds or even your phone's earpiece for voice alerts. Music, voice alerts and more are heard privately with outstanding clarity. A micro USB port allows you to charge the internal Li-Ion battery with an ordinary USB-to-Micro USB cable. It can also be used to connect flight controllers, recognize accessory devices and provide a convenient link to your PC or laptop.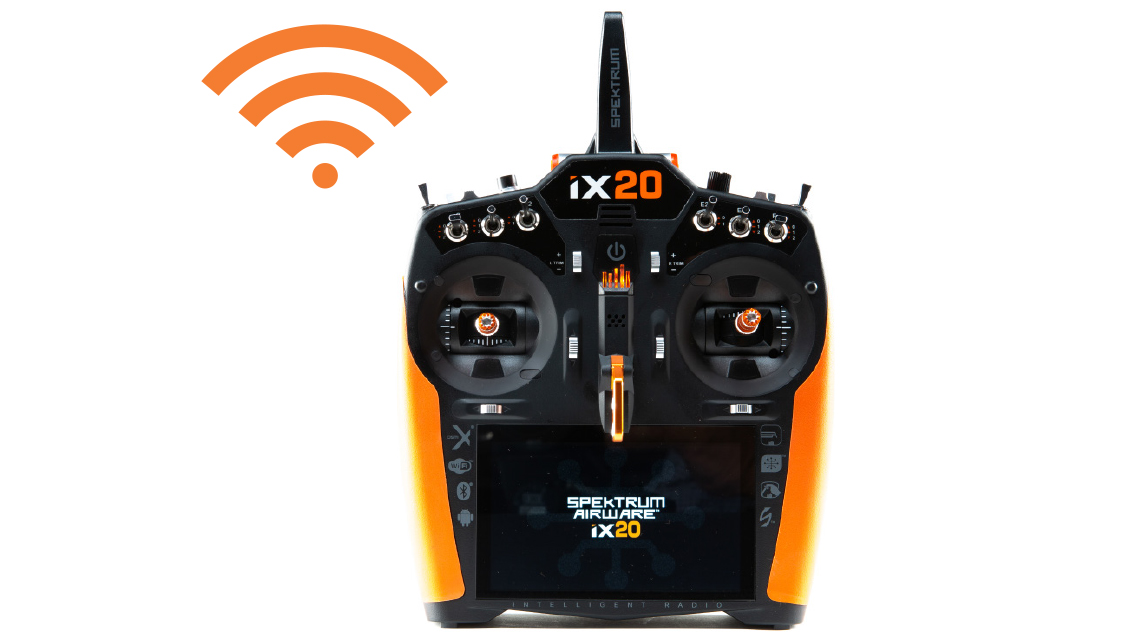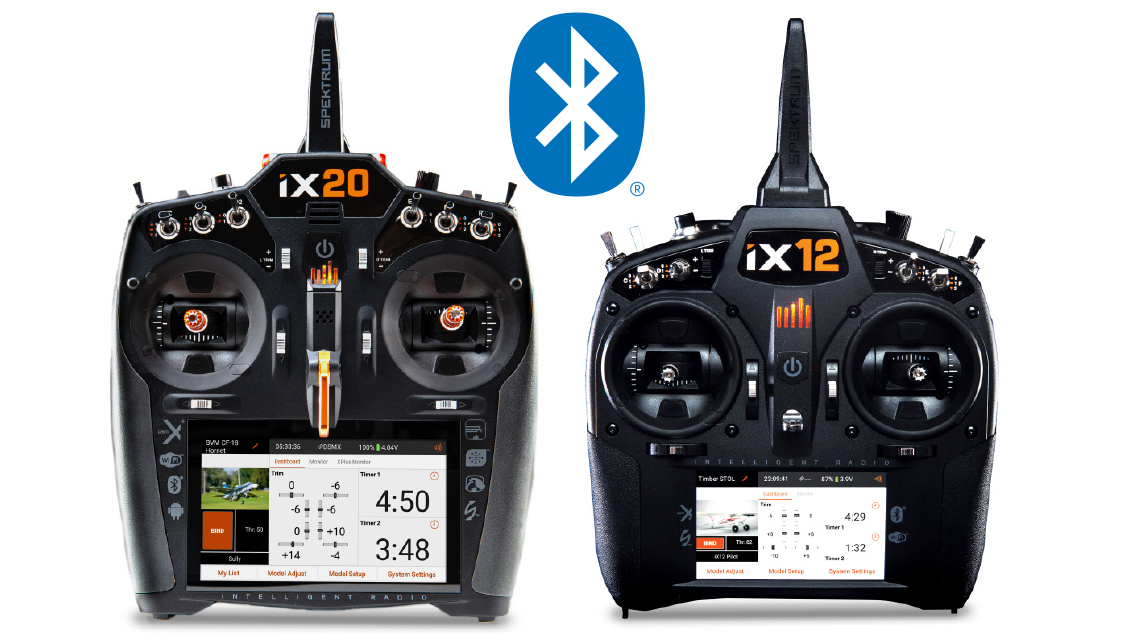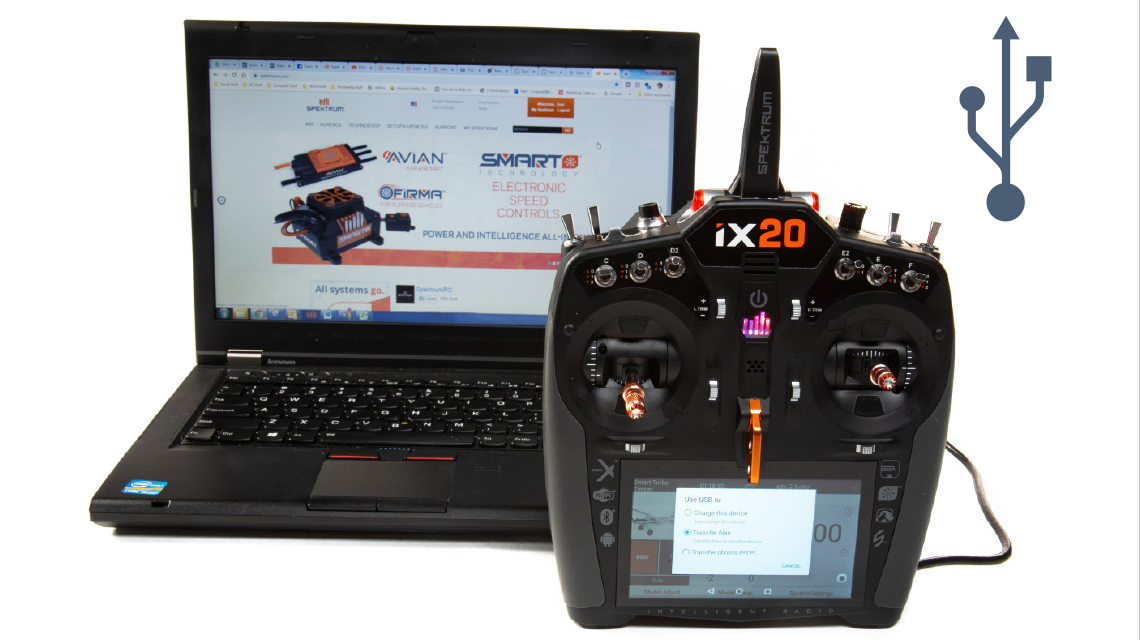 ---
STAY CONNECTED THROUGH SMART TECHNOLOGY
The iX20 is the ultimate tool for making sure your prized aircraft and equipment stay in perfect condition. It offers built-in telemetry compatibility that can give you real-time information on critical data like battery voltage, motor temperature and more. The transmitter is compatible with installations using telemetry-enabled receivers and sensors, and it supports those using the innovative, all-in-one telemetry of Spektrum™ Smart Batteries, ESCs and receivers with multiple screens and warnings.
The iX20 takes raw, real-time telemetry data and makes it far easier to view graphically with gauges that put vital information into a context that's clear and precise. Using the voice alert system, you can program the iX20 to tell you when specific telemetry values reach or exceed limits you define. You can also have it call out a sequence of telemetry values on demand with the flip of a switch.
Customizable telemetry dashboard pages and custom gauge panels allow you to set what data you want to see and organize it as you choose, with adjustable cell sizing and auto text-size adjustment.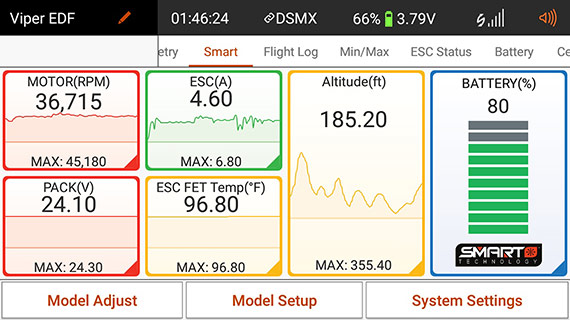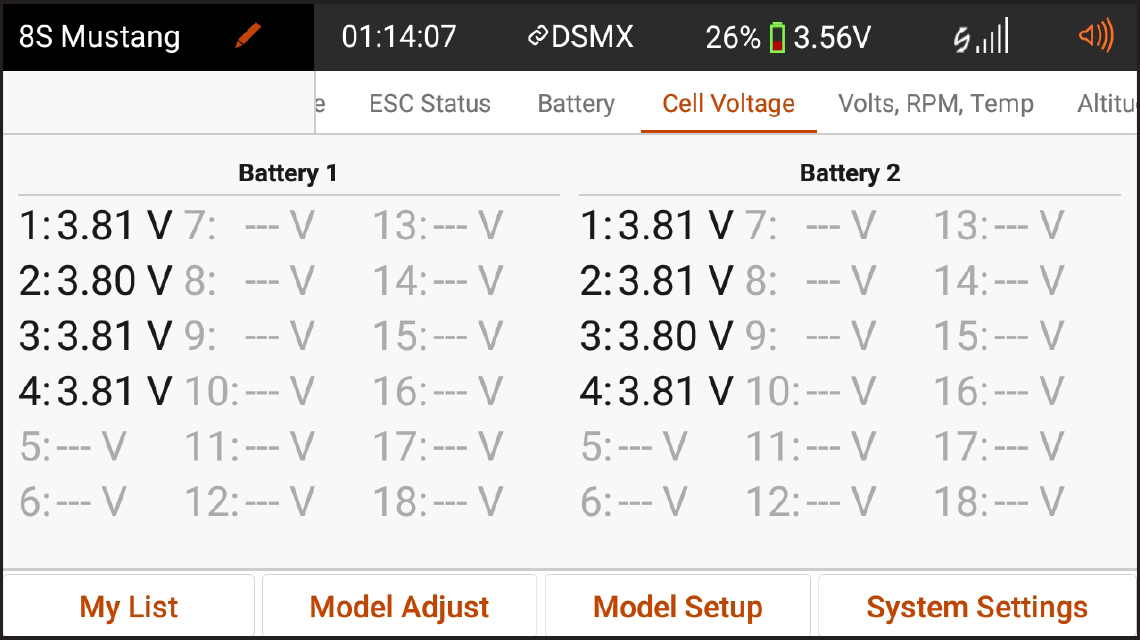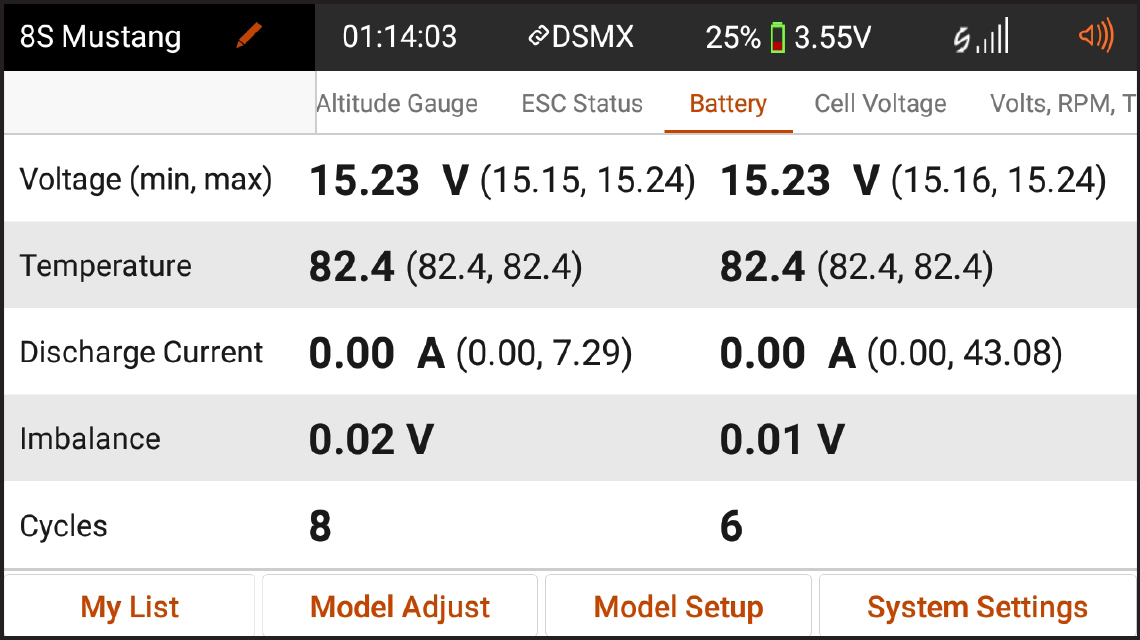 ---
SIMPLY "TALK" TO IT
Just talk to the iX20 and it will listen. New speech-to-text functionality, made possible by Android, allows you to access and setup custom telemetry warnings, reports and more through its voice recognition software.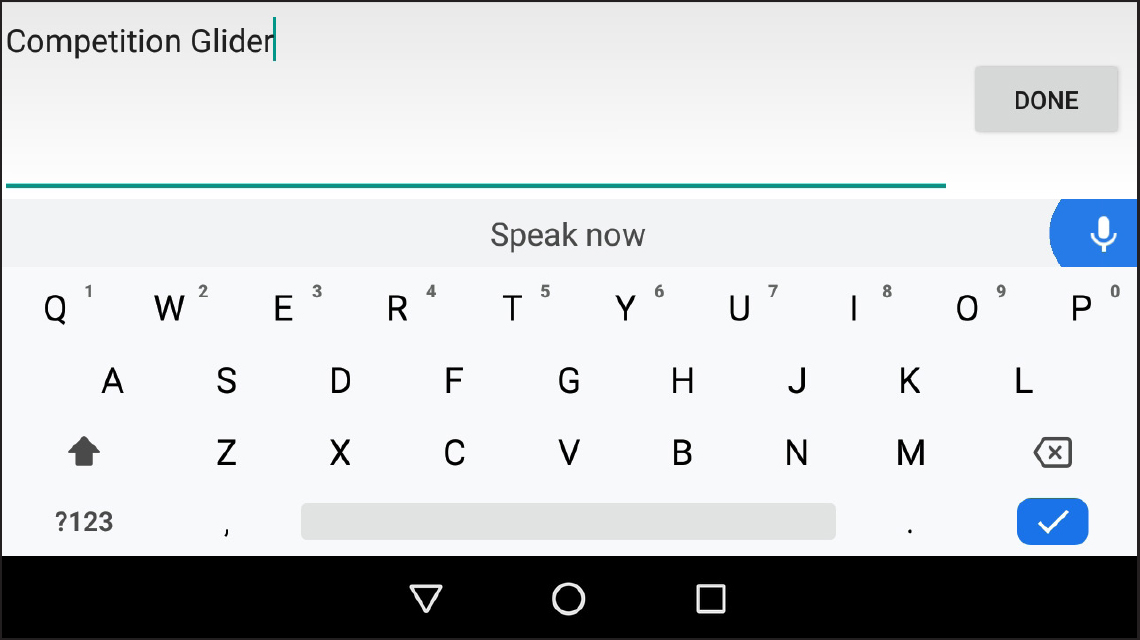 ---
PROGRAMMABLE VOICE ALERTS
Keep tabs on important information without ever taking your eyes off what you are flying. The iX20 programmable voice alert system can call out what flight mode you have chosen or report telemetry info automatically or on demand. If an alarm goes off, you won't have to look at the display to see what's happening. The iX20 can tell you. Create any voice alert by just typing in the words.
In addition to a built-in speaker, the iX20 has a headphone jack that allows you to monitor voice alerts using earbuds so you don't bother other pilots. You can also use Bluetooth to connect with wireless earbuds or your phone's ear piece.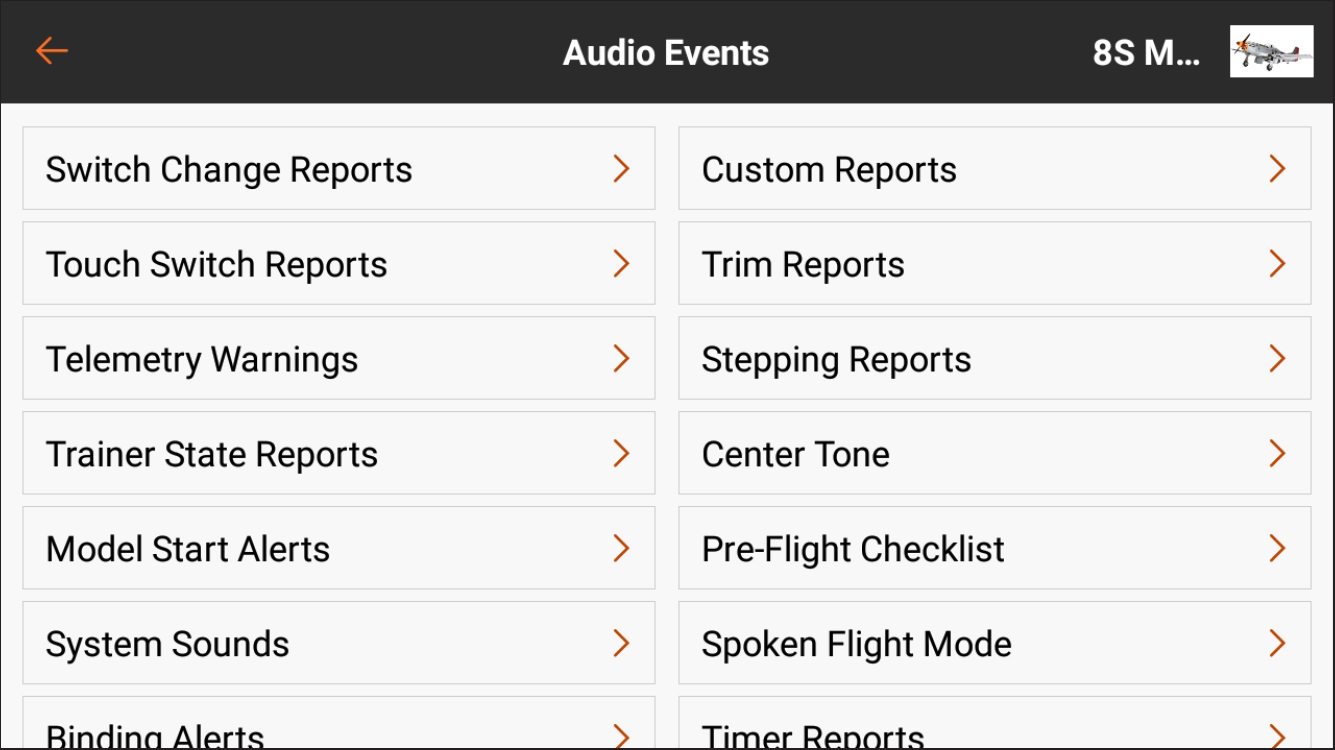 ---
24 PROGRAM MIXES
The iX20 has the most program mixes ever offered in a Spektrum radio. In each mix, a curve is available for each position. For example, if you assign a mix to flight modes, you may have up to 10 flight modes; you'll also have up to ten different curves for total flexibility. Having a curve for every position provides much more flexibility and power for complex mixing, and can reduce the number of program mixes it takes to achieve a desired setup.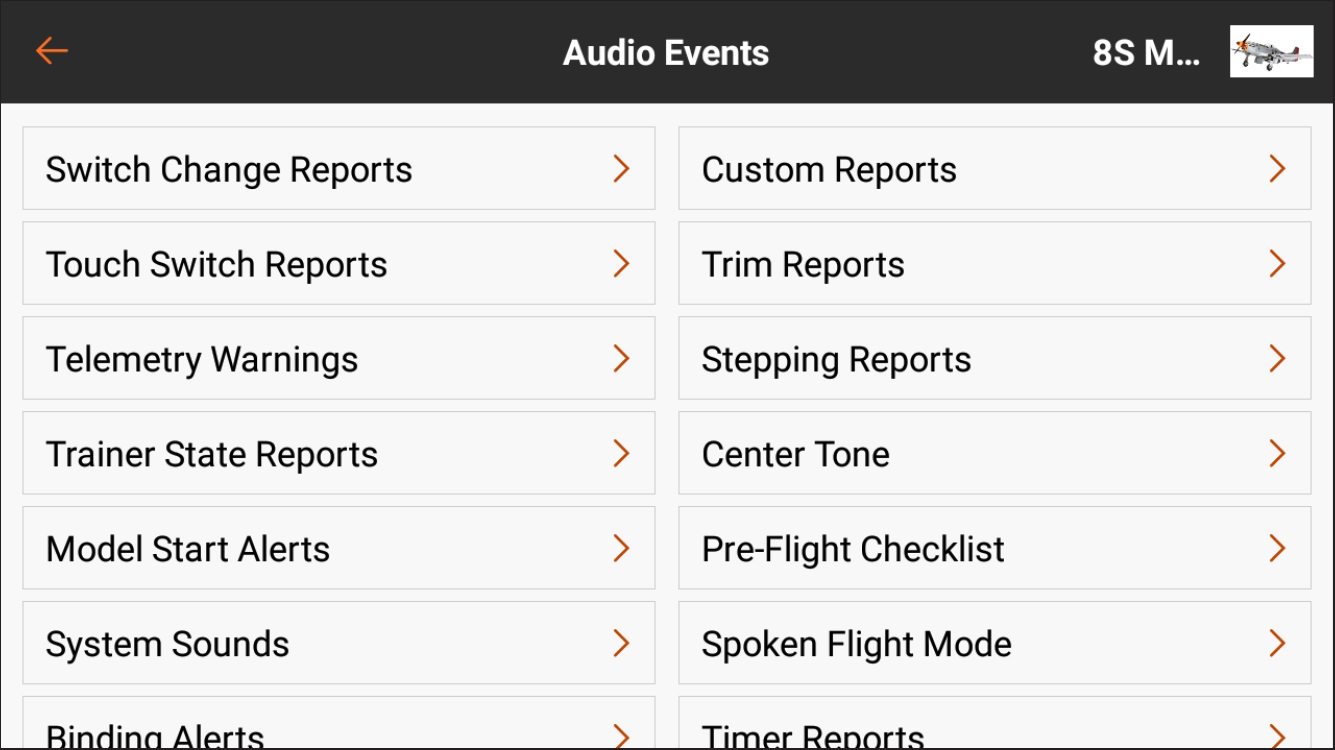 ---
FORWARD PROGRAMMING
Forward Programming is a Spektrum technology that enables you to configure smart receivers and related products wirelessly and directly from the transmitter. It's simple. Forward Programming uses the existing bi-directional communication link between a transmitter and receiver to do the same sophisticated programming that once required a cable, Bluetooth dongle, PC or a mobile phone. Plus, Forward Programming uses intuitive Spektrum AirWare™ firmware language so it's simple to use.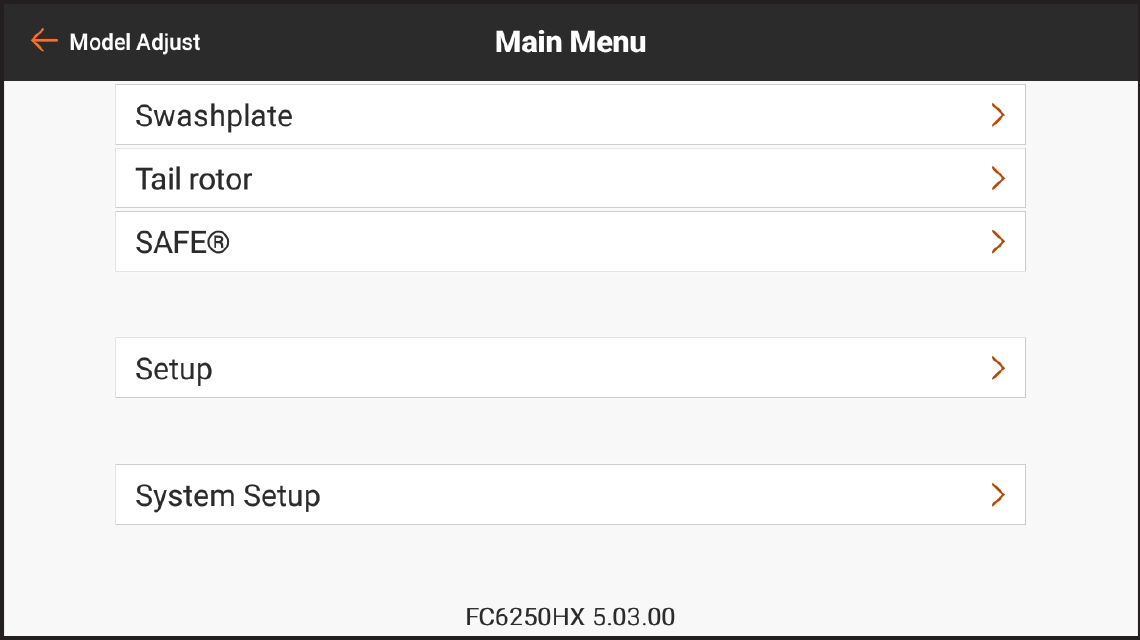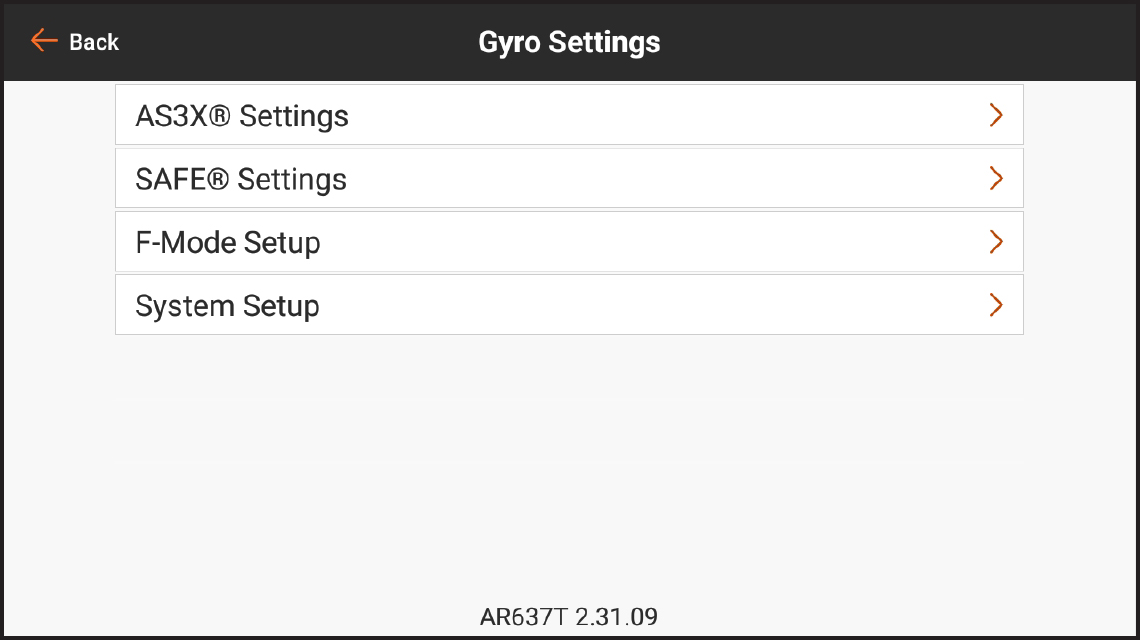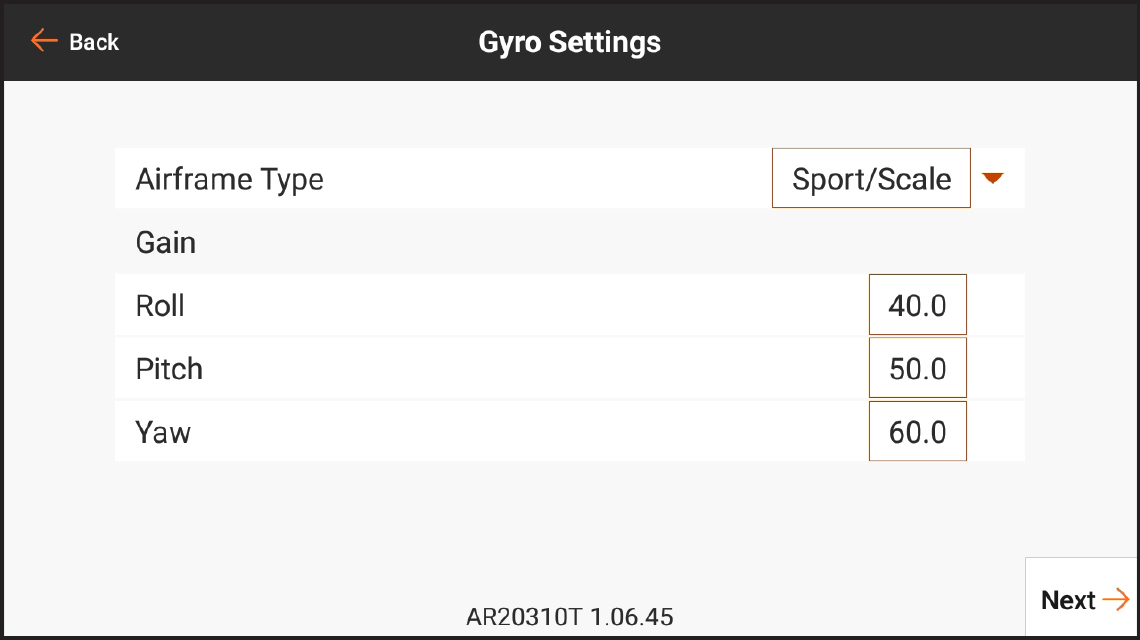 ---
ON-THE-FLY FINE TUNING
Easily fine tune programmed features while flying without awkwardly having to access a specific menu or land just to tweak an adjustment. On-The-Fly (OTF) lets you adjust mixes and other programmed values conveniently "on the fly" by simply using one of the four auxiliary trim controls (not the primary trim controls) you select.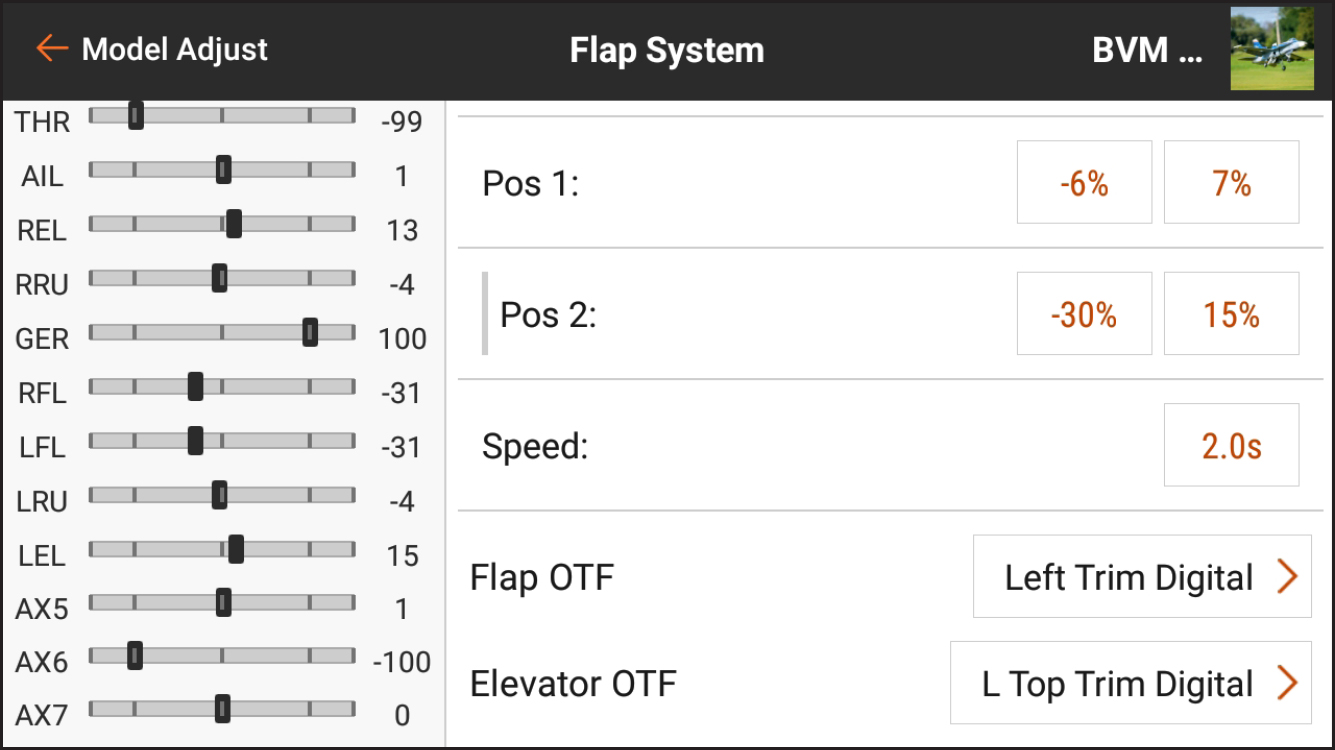 ---
INNOVATIVE TOUCH SWITCHING
Turn timers on or off, or activate programmed voice alerts with just your touch. An industry first, the iX20 uses capacitive-touch technology so that any of the ten toggle switches, the I-switch button, or gimbal sticks react to the soft touch of a finger and without interrupting the programmed mechanical movements also assigned.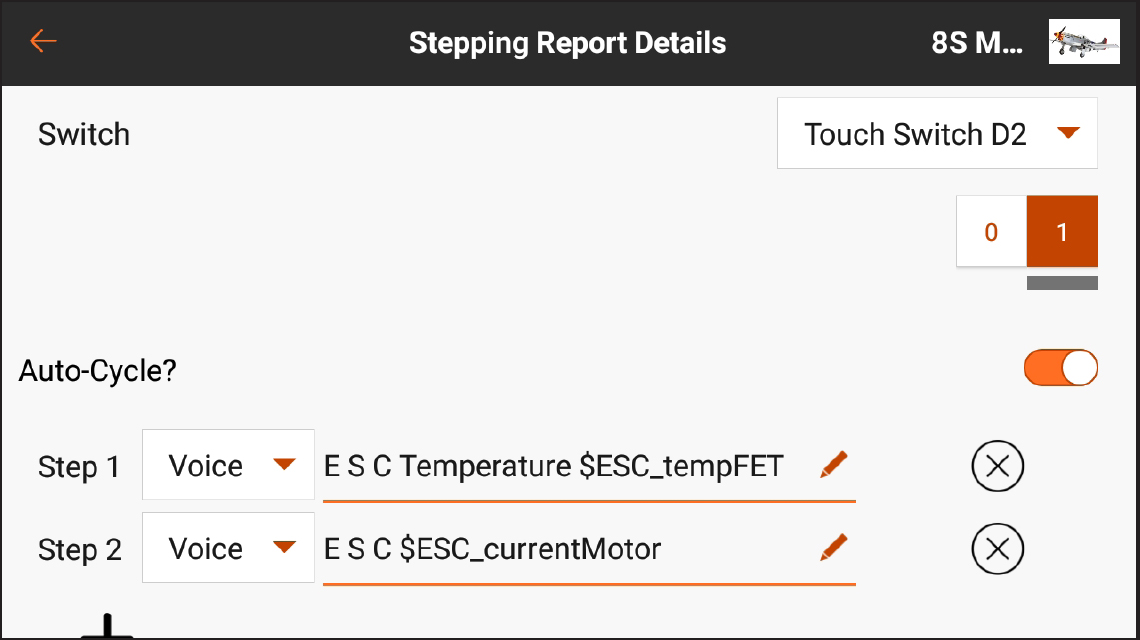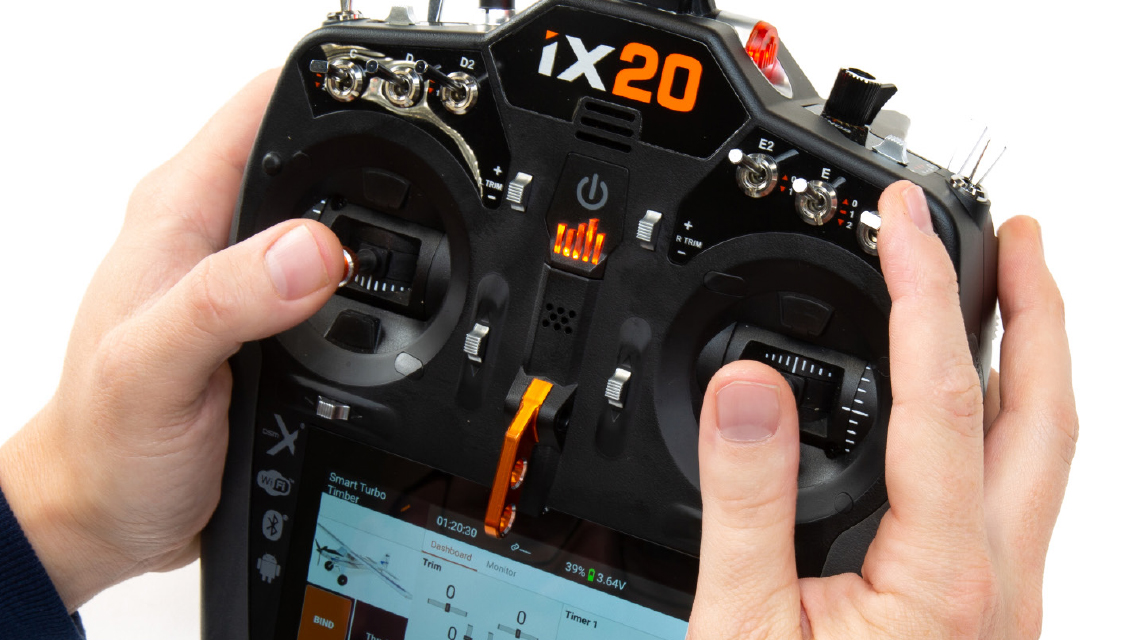 ---
SHARABLE MODEL FILES
The iX20's enormous internal memory – large enough to hold 250 models – means you'll rarely, if ever, need to juggle models between the transmitter memory and SD card or Bluetooth memory devices. Nevertheless, transferring model programs is simple and seamless with the iX20 and other Spektrum brand radios. You can easily share models between "G2" systems and iX-series radios via SD card or Bluetooth. Note: The iX20 can import SPM and iSPM file types, but can export only iSPM type files.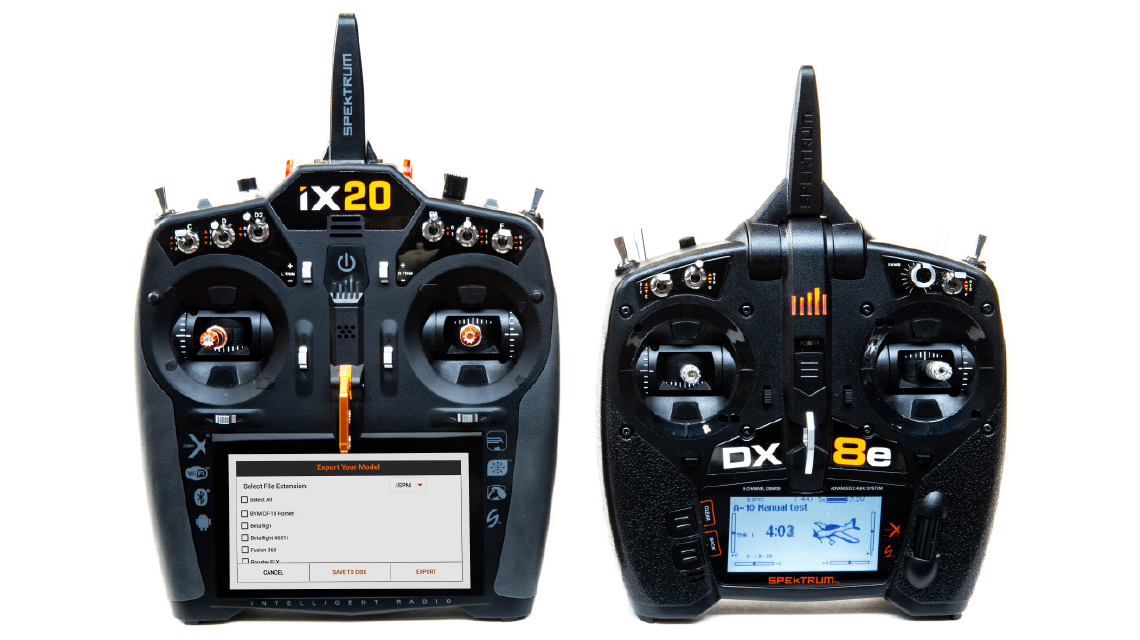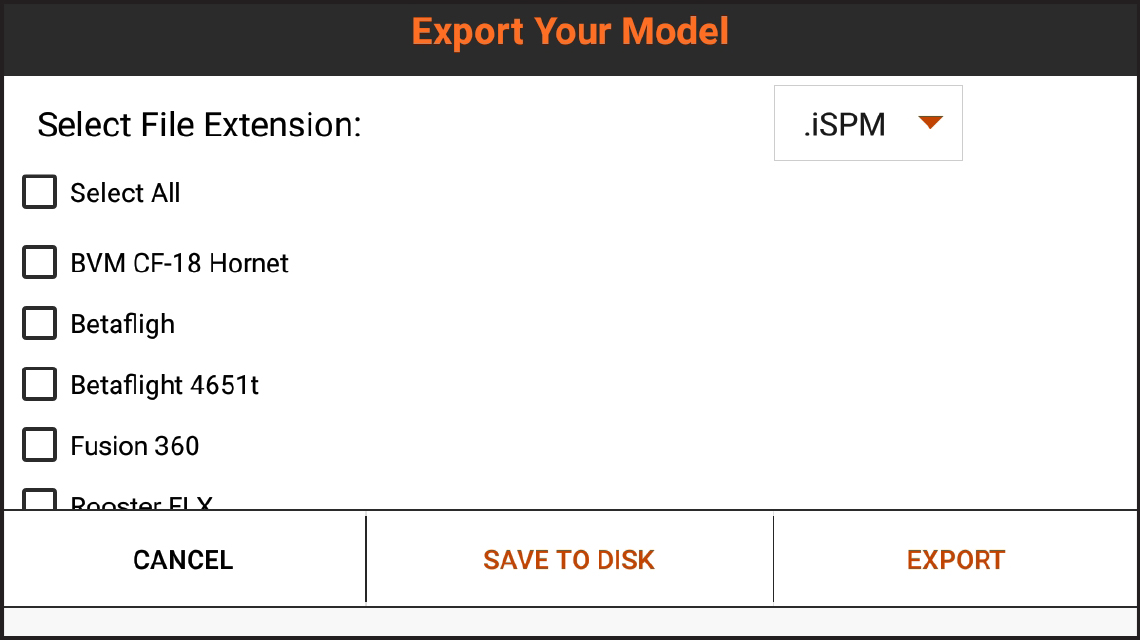 ---
DIVERSITY ANTENNA SYSTEM
Having multiple antennas built-in assures RF performance regardless of how the iX20 transmitter is oriented while you fly. In addition to the visible antenna, another is designed into the transmitter handle. It's a proven effective system that enhances signal reception while reducing polarization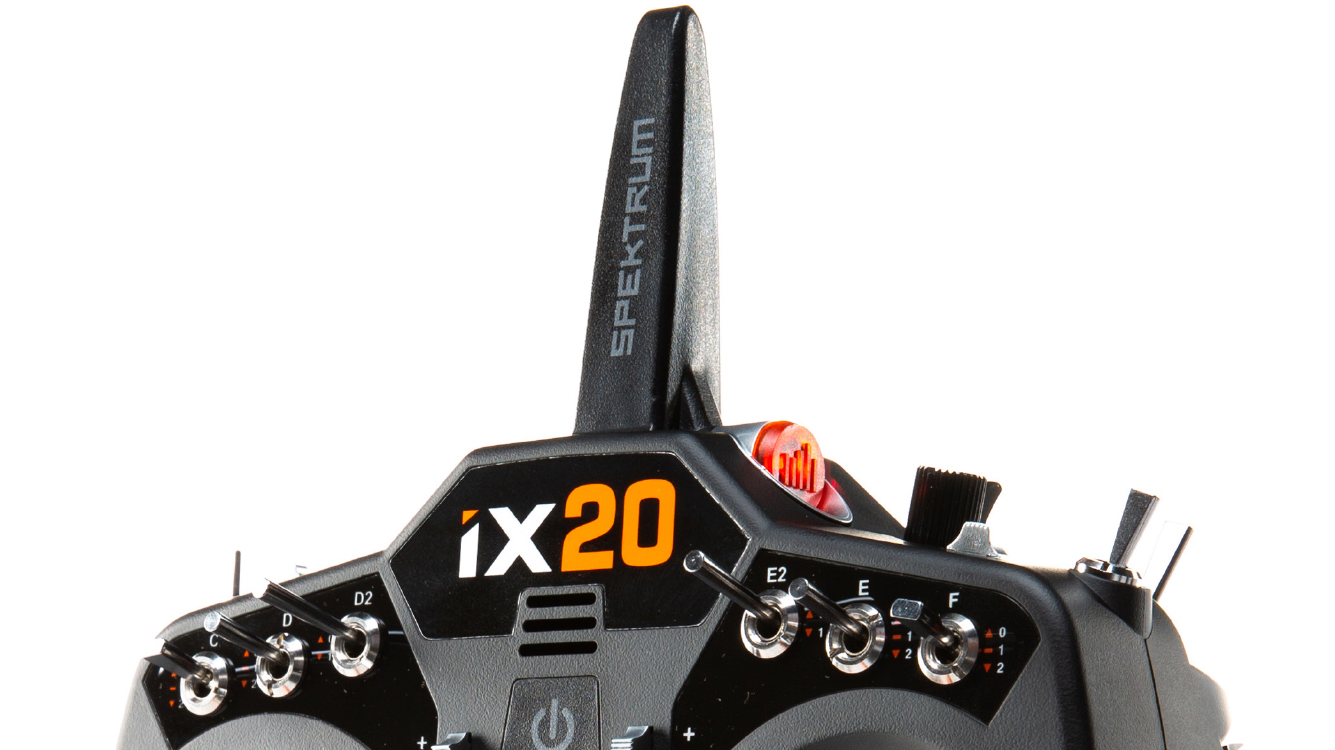 ---
BUILT-IN CAMERA
A camera is built into the iX20 transmitter and can be used to take still photos and videos. The lens is located in the rear center of the transmitter. It's easy to capture images of your own aircraft and add them to the Model Details menu.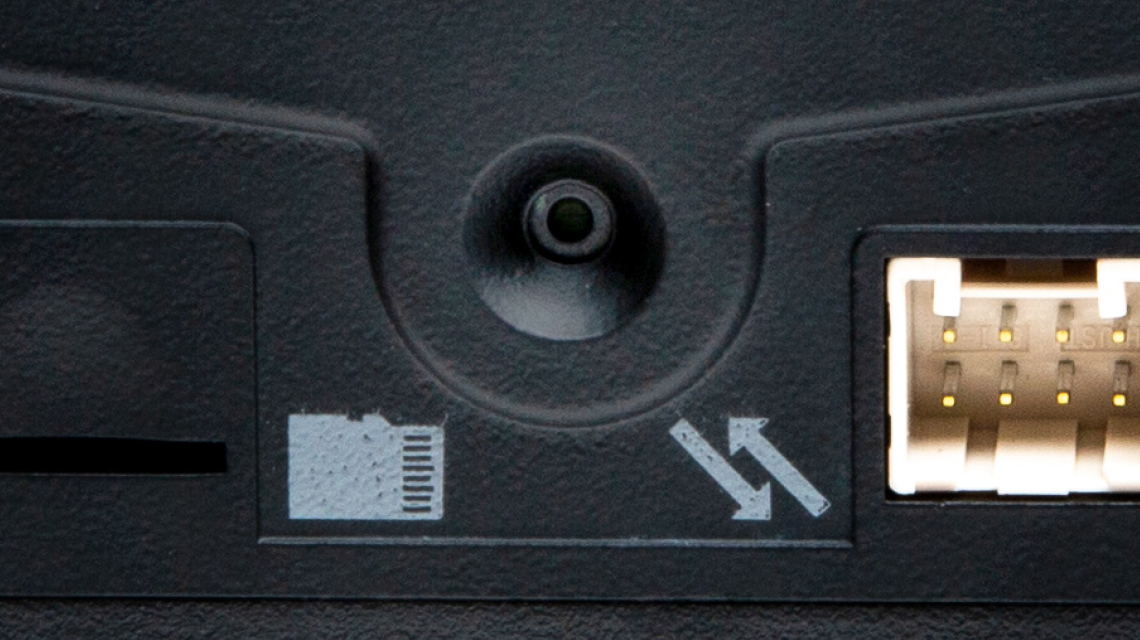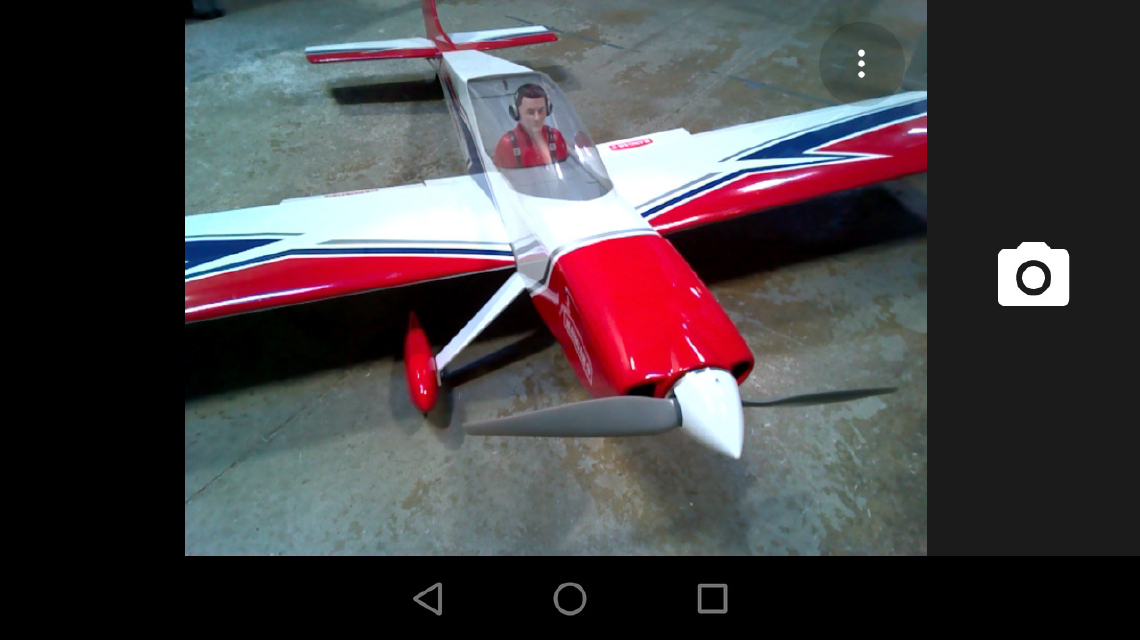 ---
CROSS-FIRE MODULE SUPPORT
Go further with the iX20 when you explore what the integrated auxiliary serial port has to offer. It's a next-level link that lets you accessorize the iX20 transmitter with an alternate RF system, such as the TBS Crossfire CRSF protocol technology, and still enjoy extremely low latency performance.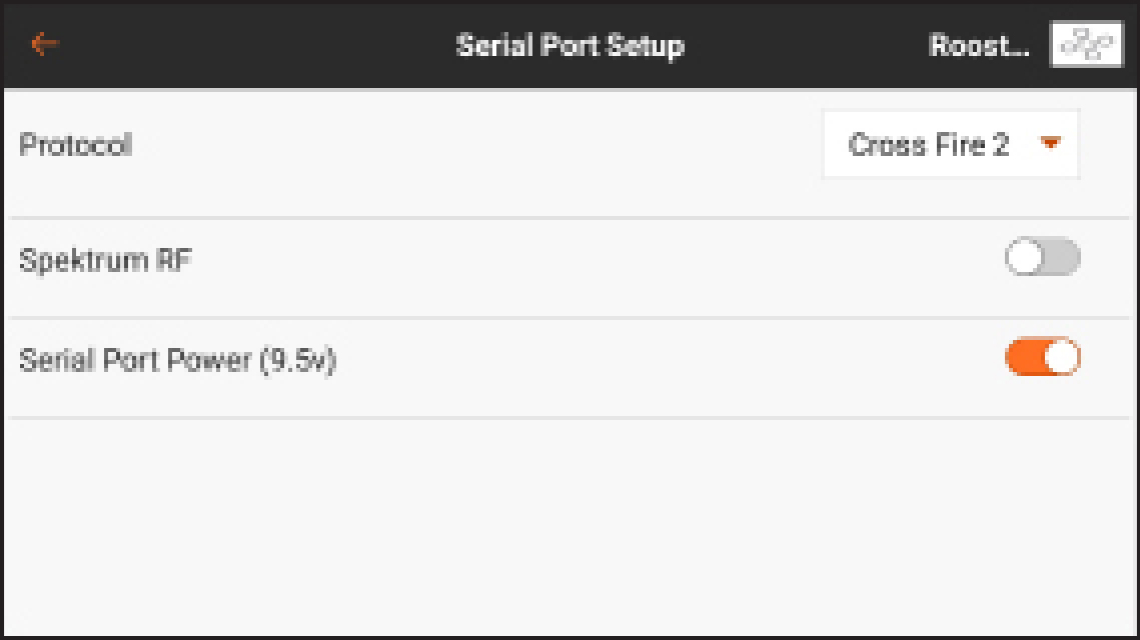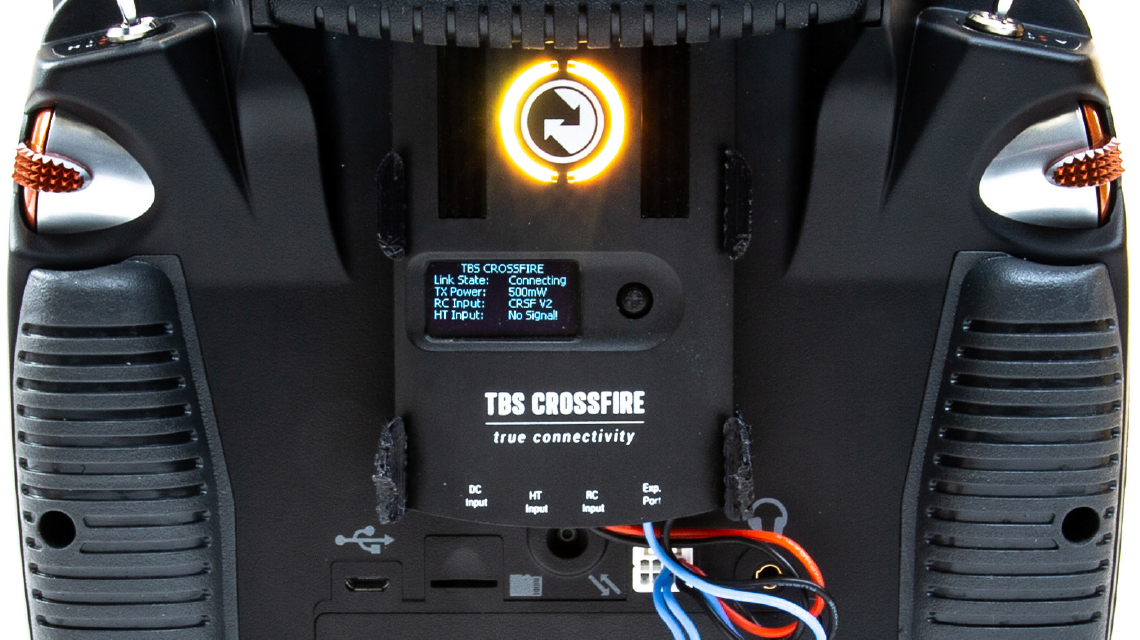 ---
WIRELESS TRAINER LINK
The exclusive functionality of the Spektrum™ wireless trainer link gives iX20 users the ability to link up wirelessly with other Spektrum transmitters. It's hassle-free. Once bound to another transmitter or component, ModelMatch™ technology will allow the iX20 to re-link without going through the bind process all over again.
Wirelessly "buddy box" with another DSMX®/DSM2®

 

transmitter when teaching someone to fly.
Assign gimbal functions to a second "camera" transmitter when flying a camera drone so you can focus on avoiding obstacles and maintaining visual contact while the camera operator lines up the shot
Link with specially equipped Spektrum™

 

FPV headsets to wirelessly control head tracking.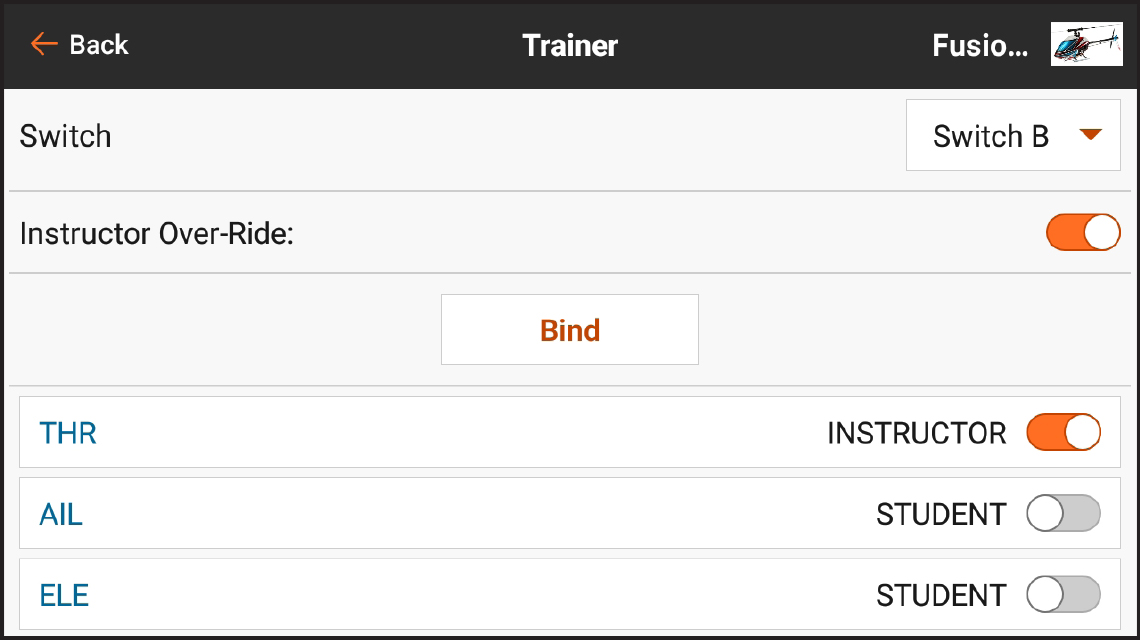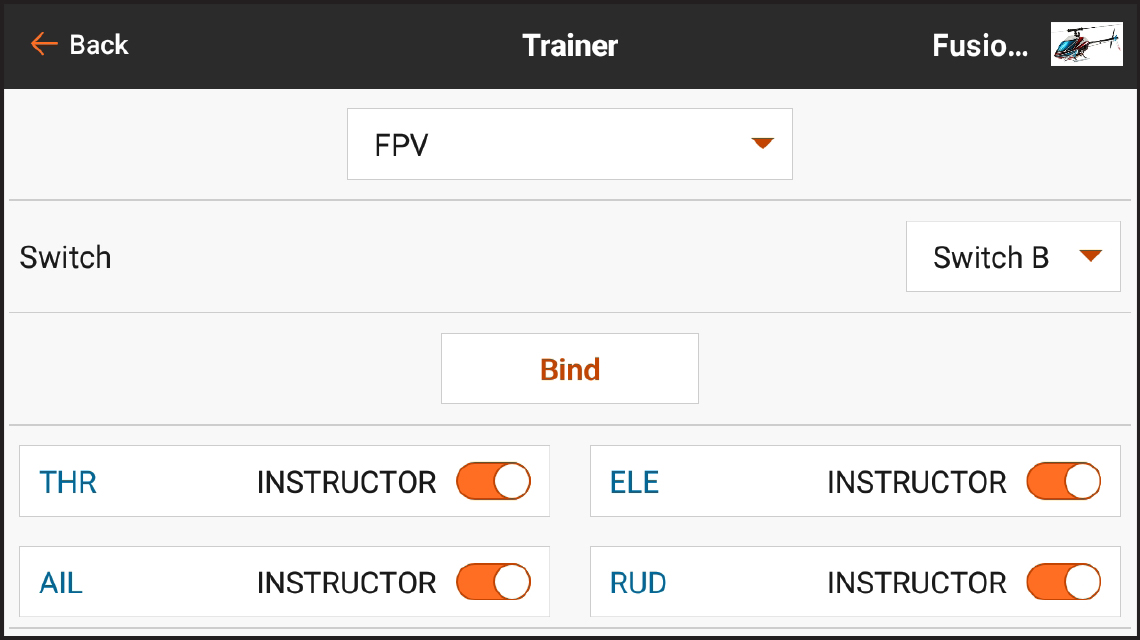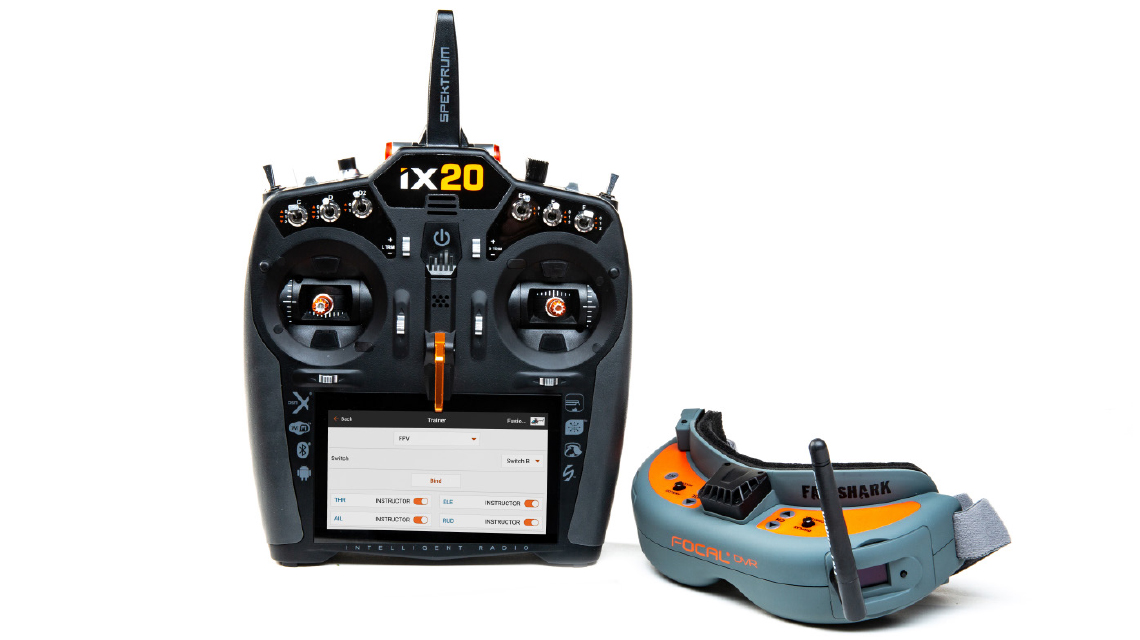 ---
IX20 ALUMINUM GIMBAL UPGRADE OPTION
For existing iX20 owners, Spektrum is offering the option to upgrade stock iX20 gimbals to iX20SE machined aluminum gimbals.
Product Specifications
| | |
| --- | --- |
| Band | 2.4GHz |
| Resolution | 1024 or 2048 |
| Programmable | Yes |
| Battery | Included |
| Modes | User Selectable Mode 1-4 |